Use Meaningful Hyperlink Text (PPT)
Posted: June 7, 2020 at 8:55 pm, Last Updated: June 7, 2020 at 9:47 pm
Hyperlinks should inform users where clicking the link will actually take them.
To create meaningful hyperlink in Microsoft 365 PPT, do the following:
Select the URL that you would like to replace with meaningful hyperlink text.
Go to the Insert tab. Select Links.
Enter the descriptive link text in Display text textbox.
Enter the URL in the Address textbox.
Why is this important?
Screen reading applications allow users to list the links on the page in a separate dialog window. This feature allows a user to quickly scan through all of the links on a web page. Unfortunately, it also strips away the surrounding content leaving the user only with the link text provided.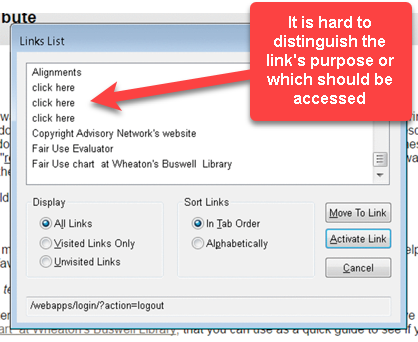 Write to Korey Singleton at ksinglet@gmu.edu