Livescribe Smartpen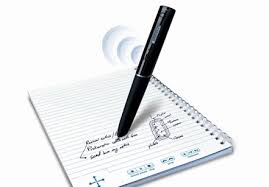 Use a Livescribe Smartpen opens a new window to effectively and efficiently record audio and written notes during a lecture, class, or group discussion. Then transfer audio and notes to a computer to review post lecture. Review notes, playback audio and organize notes by class or subject.
See the video below for a demonstration of the Livescribe Symphony/Aegir pen:
Victor Reader Stream
The Victor Reader is a DAISY-MP3 and NISO player.  Read and navigate through complex books, such as reference manuals and textbooks, as well as novels and magazines. Use the built-in text to speech to read books in text format such as Bookshare. There are many more functions, including an integrated microphone to record voice notes. Visit HumanWare: Victor Reader Stream opens a new window for more information.
Personal FM System
The FM system is completely battery-powered and can be taken anywhere. The user simply gives the wireless transmitter to any presenter, teacher, work associate or friend who they wish to hear. The system is also extremely versatile and can be used to listen to other sound sources such as TV or audio from a facility's soundboard.
Keyboards & Mice
ATI also has a variety of ergonomic keyboards and mice for loan to faculty, staff and students. Some of the options include:
TypeMatrix Keyboard
Microsoft Natural Keyboard
Big Keys LX Keyboard
ErgoRest Arm Supports
Orbit Optical Trackball Mouse
NaturalPoint Head Tracker Mouse
Kensington Expert Mouse
3M Joystick Mouse
How can I access any of these resources?
For a demonstration of any the devices described above, please contact the ATI Main Office, ati@gmu.edu.